Concept
Transforming manual measurements into quantitative calculations
Before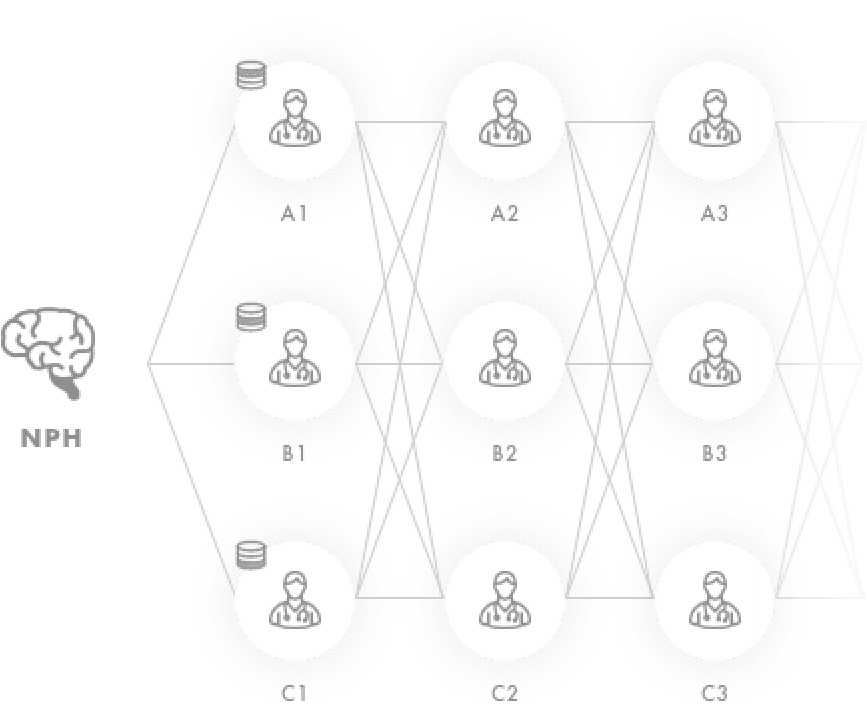 Radiographic findings identified in patients with normal pressure hyrdrocephalus (NPH) are measured manually, despite the fact that there are diagnostic guidelines available for the disease. However, manual measurements are subject to variability among doctors, making it difficult to track the progress of the disease.

The Japan Brain Dock Society has made white matter hyperintensity grading a mandatory component. These measurements are often subjective, and often lead to substantial variability among doctors.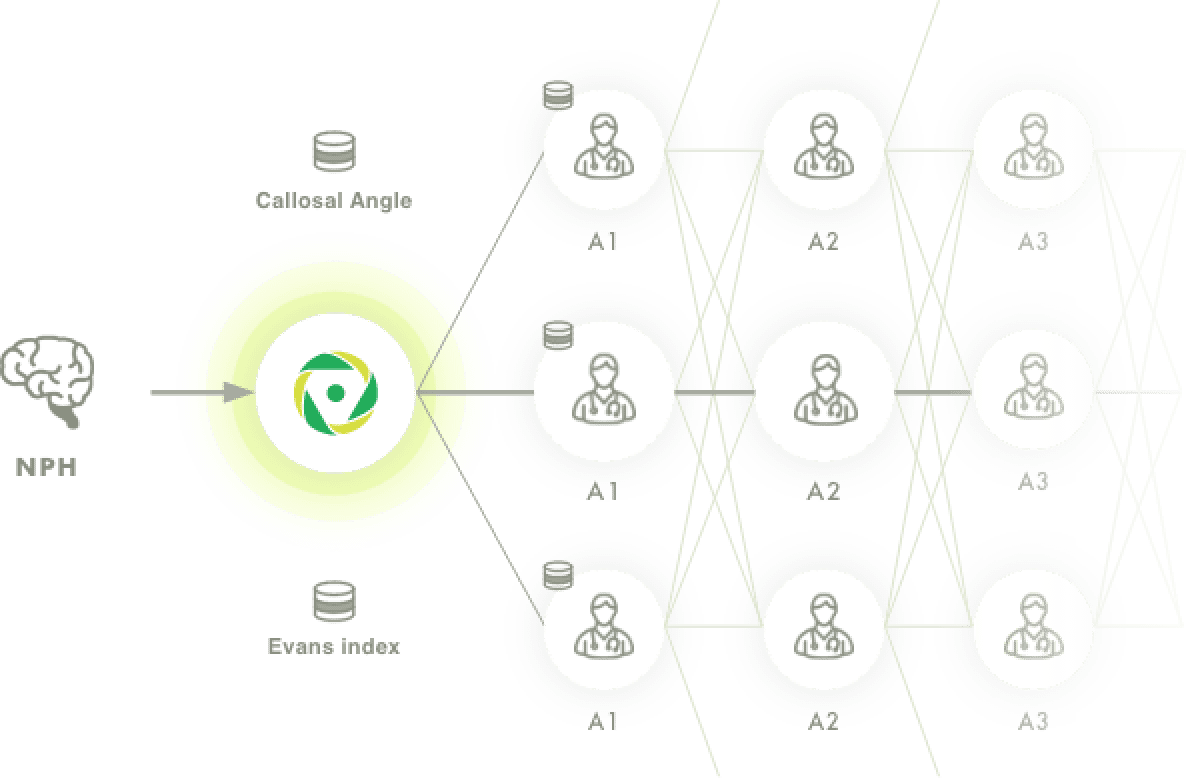 After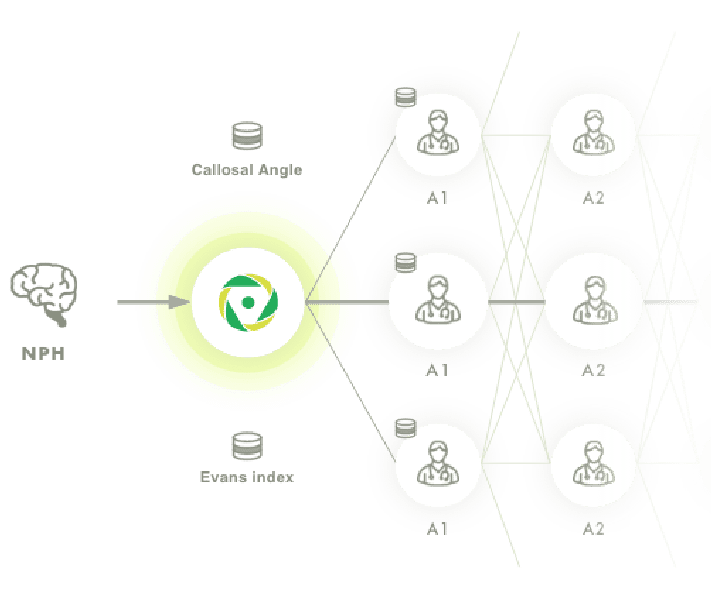 EIRL Brain Metry can provide consistent, automatic measurements for parameters that are subject to quantitative evaluation or variability among doctors, including the Evans index, Callosal angle, and white matter hyperintensities.
Features
Measurements for White Matter Hyperintensities
EIRL Brain Metry will segment the white matter hyperintensities and calculate the total volume. EIRL Brain Metry will then assign a score based on periventricular hyperintensities (PVH) and deep and subcortical white matter hyperintensities (DSWMH).
Automatic Measurements for the Evans index
EIRL Brain Metry will select the most appropriate slice from the exam and segment the cerebrum and lateral ventricles to calculate the Evans index.
Automatic Measurements for the Callosal angle
EIRL Brain Metry will select the most appropriate slice from the exam, segment the lateral ventricles and identify the corpus callosum to calculate the Callosal angle.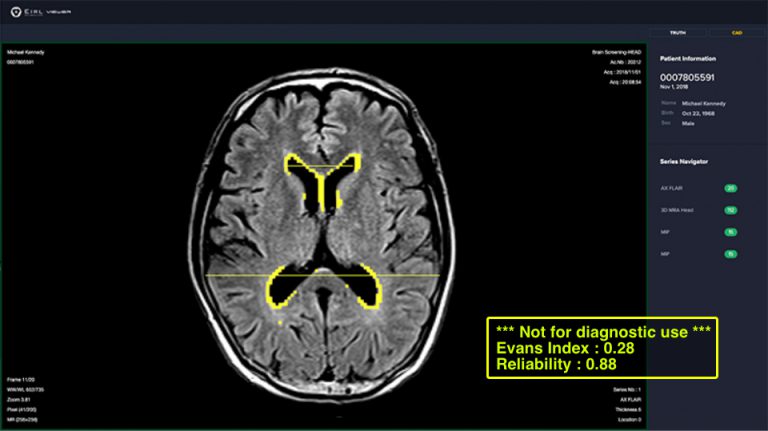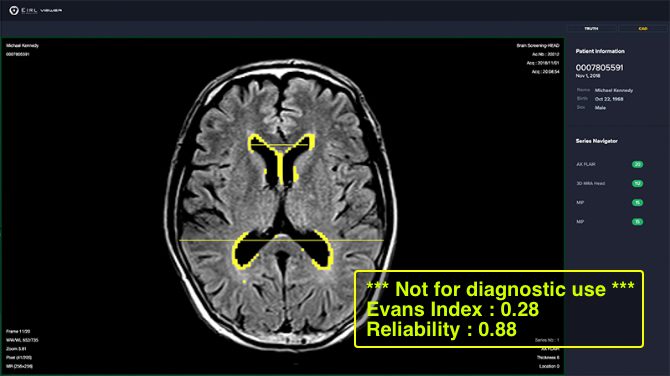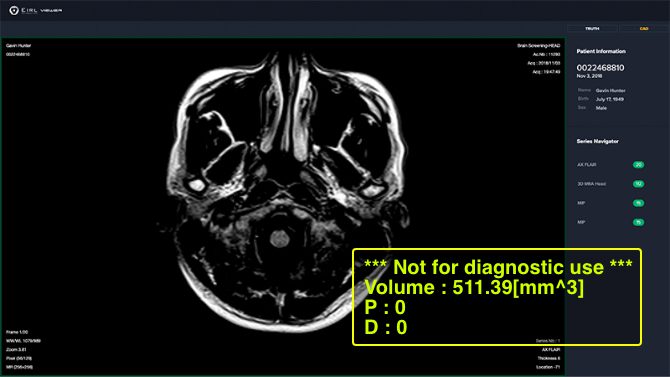 Basic Info
| | |
| --- | --- |
| Product Name | Medical Image Analysis Software EIRL Brain Metry |
| Certification Number | 230AGBZX00107Z00 |
Requirements
Modality
MRI
Magnetic Strength
1.5 or 3.0T
Imaging Requirements
White matter hyperintensity: Axial FLAIR
Evans index: Axial FLAIR or T2
Callosal Angle: Coronal T1
Available Modalities and PACS
| | |
| --- | --- |
| PACS | Fujifilm, NOBORI, PSP and more |
| Modality | MRI |
Frequently Asked Questions
What is the grading feature based on?
The grading feature is based on a unique 5-level evaluation system that has been pre-set for both the PVH and DSWMH.