 Background
The Widespread Adoption of Brain Screening in Japan
With Japan leading the world with the largest number of MRI scanners in the world [1] , patients are able to take a "brain dock," or an in-depth medical examination of the brain at a reasonable cost. Oftentimes, aneurysms are discovered during this examination. If aneurysms rupture, blood will bleed into the space of the brain, causing subarachnoid hemorrhage (SAH). Cerebrovascular diseases, such as SAH is the fourth leading cause of death in Japanese people [2].
[1] Based on an investigation conducted by OECD in 2017, Japan has 51.7 MRI units per million population, which is significantly higher compared to the average number of units in the G7 and OECD member countries, listed at 25.8 units and 15.2 units, respectively.
[2] Ministry of Health, Labour and Welfare: Vital Statistics (2018)
Reducing Radiologist Workload
The rapid growth of medical image data caused by the advent of imaging modalities, such as MRI, is strongly correlated to the increased workload for radiologists and neurosurgeons. There is a pressing need to promote workplace reforms in the medical space, and healthcare providers are strongly encouraged to use technological advances to provide efficient, high quality medical care.
Features
Image Interpretation Support
EIRL Brain Aneurysm supports the interpretation process by identifying sac-like structures of aneurysms in brain MRA that are larger than 2 mm. The sensitivity of the doctor interpreting the images without the software was 68.2%. In comparison, the sensitivity with the assistance of the software was 77.2%, suggesting an improvement in diagnostic accuracy. [3]
[3] The average interpretation results of 20 radiologists for 50 cases that included unruptured aneurysms and 150 normal cases that did not contain aneurysms.
・5 radiologists with less than 5 years of experience, and 5 radiologists with more than 5 years of experience.
・6 neurosurgeons with less than 6 years of experience and 4 with more than 6 years of experience.
Seamless Integration with PACS and Modalities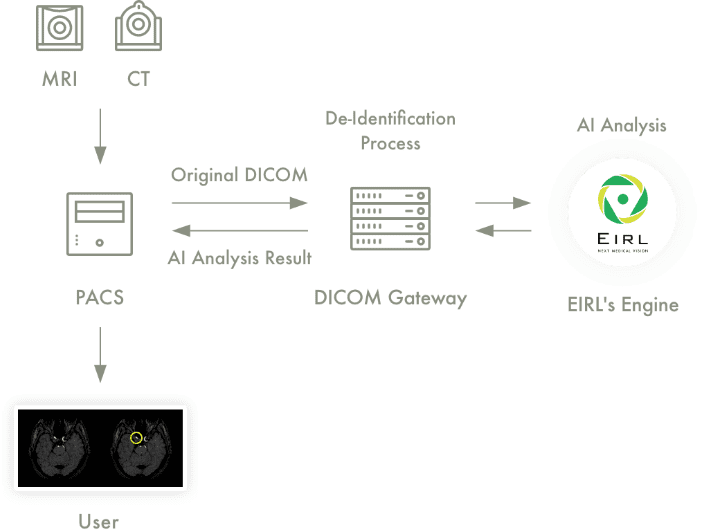 With its compatibility with DICOM, which is the universal format for image storage and transfer, image data can be sent and received with the pre-existing PACS and modalities installed in the hospital system. This seamless workflow allows for the analysis results to be delivered straight to the radiologist's workstation.
Reader Study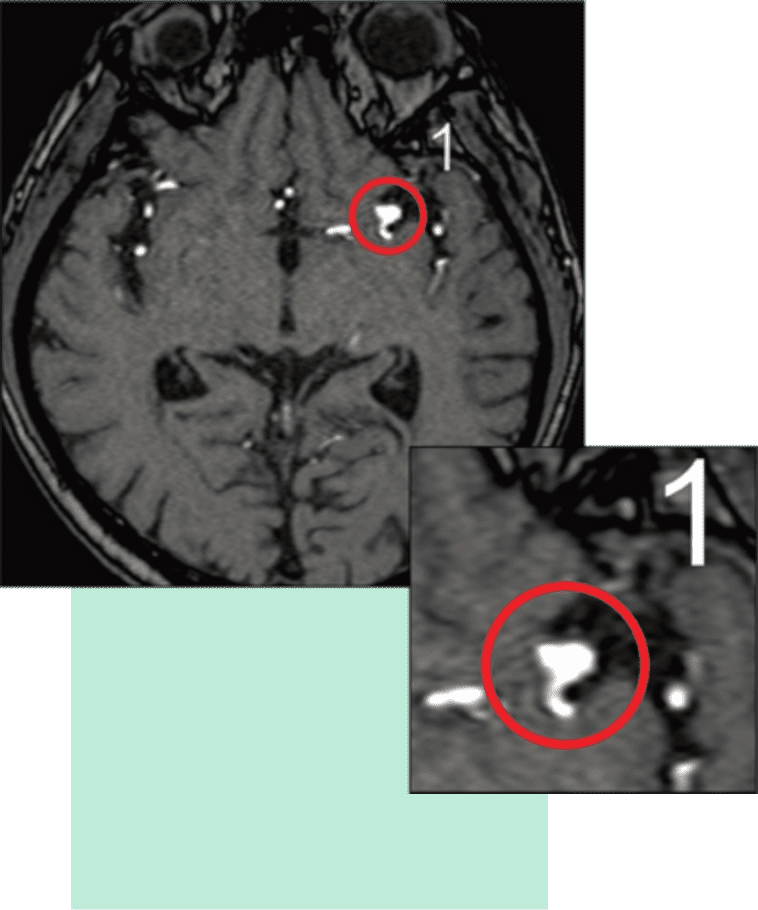 A total of 1271 MRA images (1477 brain aneurysms) were used to train the deep learning model for the brain aneurysm detection algorithm. The MRA images were taken from four different institutions, including Osaka City University, from November 2006 through September 2017. The algorithm reached a sensitivity of 92%, and improved aneurysm detection by 5-10%, compared with the radiologist's initial reports.
Sensitivity on 683 brain aneurysms
CAD
Sensitivity
91

%

93

%
CAD
Improved
Detection
4.8

%

13

%
Presented at: The 77th Annual Meeting of the Japan Radiological Society
Supported by: Osaka City University Graduate School of Medicine and Faculty of Medicine Department of Diagnostic and Interventional Radiology
Reference: "Deep learning for MR angiography: automated detection of cerebral aneurysm" Ueda D et al. Radiology 2018
Value to Users
Improve diagnostic accuracy
Provide doctors feedback by flagging suspicious areas.
Prevent doctors
from overlooking lesions
The software's detection capabilities prevent doctors from overlooking potential aneurysms.
Basic Info
| | |
| --- | --- |
| Product Name | Medical Image Analysis Software, EIRL aneurysm |
| Certification Number | 30100BZX00142000 |
Requirements
Modality
MRI
Magnetic strength
1.5T or 3.0T
Imaging Requirements
MRA Axial
Slice thickness must be less than 1 mm
Available Modalities and PACS
| | |
| --- | --- |
| PACS | Fujifilm, NOBORI, PSP and others |
| Modality | MRI |
Frequently Asked Questions
Will EIRL Brain Aneurysm continue to learn and improve in accuracy once it is installed in the hospital?
EIRL Brain Aneurysm will not continue learning once operational.
How long does it take for EIRL Brain Aneurysm to analyze the images?
It will take less than 5 minutes per study. The system will return the results as GSPS or SC. The analysis results will be saved in the PACS as a new series in the same study.
Do you offer trials of the system?
We are the middle of developing a trial version. We will contact you as soon as it is ready.